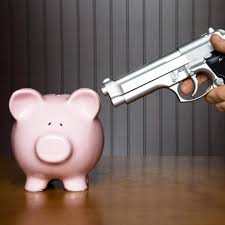 Selling a bank is hard to do and it appears even planning to sell your bank may be made even harder when your core IT supplier manufactures an exit barrier worth hundreds of thousands or even millions of dollars. Millington Bank ($565M assets), a New Jersey savings bank located in the Township of Long Hill, filed a law suit against Fidelity Information Services (FIS) in the Superior Court of New Jersey.
Millington alleges they were coerced to sign a seven-year amendment and extension to their core processing agreement in September 2015 on a "take-it-or-leave-it" basis. Vendors are smart and are trained to wait until their client has less then than 12 months of contract term remaining before they formally approach for renewal talks - thus creating a negotiations advantage because there is little time left to switch if the bank is unhappy.
Similar to the Millington situation, the bank had little time [then] to make a processing change - a process that can take 12 to 18 months - and so they signed FIS' standard form agreement. The complaint states that FIS insisted that "...every bank with whom FIS does business are required to sign this [standard] agreement..." and there was no negotiating option for Millington. Accepting this statement, the bank may have found solace (other bankers signing the same) and then signed anyway.
Fast forward a few years and the bank wishes now to potentially sell, and upon re-examining the addendum, the liquidated damages clause unfairly benefits FIS with termination fees for services that FIS will never actually deliver. The complaint continues that one of the techniques deployed by FIS to coerce a customer bank into paying liquidated damages despite a dispute as to their legitimacy "...is a tacit or explicit threat to withhold the decommissioning, conversion and integration of data required by the merger or acquisition unless the customer bank commits to making the liquidated damages payments and then makes the payments upon the consummation of the merger."
Millington finishes the complaint with a demand for the court to rule the termination fees inapplicable, illegal, unenforceable and void.